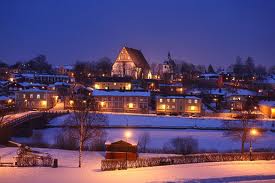 Autumn School in CC
Porvoo, Helsinki

| November 18th, 2013
The first PROSECCO educational event is the international Autumn School in Computational Creativity, which will be held in Porvoo, Helsinki, Finland from Nov. 18 to Nov. 22, 2013. PROSECCO member Hannu Toivonen is the local chair.
Students from all backgrounds and disciplines are invited to the school, provided they have an active research-interest in Computational Creativity, either regarding the engineering of new CC systems or the theoretical formalization of the abilities and limitations of such systems.
Grants are available for students through the PROSECCO network. These grants are intended to partially defray the cost of attending a PROSECCO educational event, and will most likely cover a student's local accommodation and food needs for the duration of the event. Any grant will also cover the cost of registration to the event.
More details on grants for PROSECCO educational events can be found on the official web-site for the 2013 Autumn School in Computational Creativity
Organized by PROSECCO