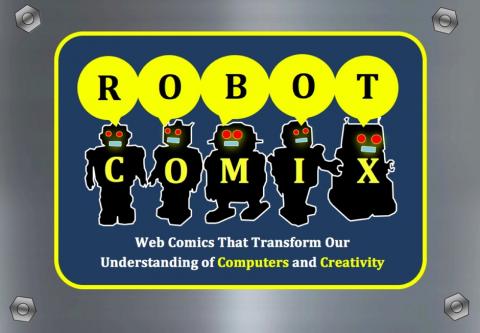 31 Jan 204
RobotComix.com is here: Using comics to transform our understanding of computers and creativity
RobotComix.com is a new Web Initiative to engage the wider public on the theoretical, philosophical and practical issues involved in the emerging technologies of computational creativity.
The first publication on RobotComix.com is an illustrated book on CC by PROSECCO partner Tony Veale, entitled
Hand-Made By Machines: An Illustrated Guide to Creativity in Humans and Machines
.   Check out and bookmark
http://RobotComix.com
for more illustrated CC publications.
{C}
 

18 Nov 2013

 

The first PROSECCO educational event is the international Autumn School in Computational Creativity, which will be held in Porvoo, Helsinki, Finland from Nov. 18 to Nov. 22, 2013. PROSECCO member Hannu Toivonen is the local...

{C}
Read More
 

20 Nov 2013

 

A club night with performances, music, paintings, and installations produced in collaborations between creative machines and creative people: Viewpoints AI, a virtual agent performance (by Mikhail Jacob); Machine Libertine, a media poetry performance (Taras Mashtalir, Natalia...

{C}
Read More
 

7 Apr 2013

 

A one-day symposium on Rule-Mining and Computational Creativity was held at the Jožef Stefan Institute in Ljubljana, Slovenia on the 4th of July, 2013. The symposium, organized by PROSECCO partner Prof. Nada Lavrač, brought together researchers in machine-learning, rule-learning...

{C}
Read More
 

12 Jul 2013

 

PROSECCO member Simon Colton and Advisory Board member Dan Ventura hosted a CC-themed poetry reading and cuisine night at the Galerie Oberkampf in Paris for the week of July 12th to 19th. Half the poems were provided by The...

{C}
Read More
5 Jun 2013

 

ArNePo is an art project where news analysis, visual arts and poetry is mixed together. In December 2012 a computer analyzed daily news and generated poems based on the news stories of the day. The generation process was abstracted into a matrix which was visualized as an image. These images were...

{C}
Read More